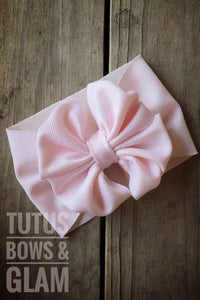 Made of a single layer of soft, stretchy fabric. Raw edges. Hand sewn for extra support. Infant tug & pull proof and long durability. Ready to wear bow. No self ties or undo's.
Sizes: 
Newborn: 13"
0-3 months: 14-15"
3-9 months: 15-16" 
9-18 months: 17"
24 months+: 18-19"
Adult: 20"
Fabric is fairly stretchy. 
Headband sizes vary according to fabrics. Some fabrics may stretch more than others.